Cannabis strains which are suitable for a small growing room
Do you want to grow cannabis in a small room with a limited height? On this page you will find small cannabis plants which are suitable for a growth in a small room. Most of the hobby growers cultivate cannabis for their own use and therefore use a cultivate tent or a cultivate box with a limited height. However, it could be a challenge to keep your cannabis plant low enough for the limited height of your small cultivate tent. Especially with sativa strains, they become much larger than the more compact Indica strains, so cultivation in a small growing room could be difficult. These cannabis strains are especially selected because of their small size.
How do I keep my cannabis plant small?
Many Dutch hobby growers struggle to control the size of their weed plants. By choosing a cannabis strain that remains small in nature, this problem has already been solved for most the growing rooms. But also with a very small growing rooms or if you want to grow a pure Sativa, the size of weed plants should not be a problem. There are enough cultivation techniques and tips to keep even the biggest Sativa's small.
Pot Size
A cannabis plant tries to have as much volume above the ground as underground. If you trim a cannabis plant above the ground, she will also stop growing underground. Only when they are equally large above the ground will the roots grow again. Otherwise, this works the same. If you trim the roots of a cannabis plant, growth above the ground will temporarily stop until the roots have grown. This proves that the size of the pot in which a cannabis plant is grown has a strong influence on the size of the plant. So if you have limited space, do not choose for a large pot. You can use the following list to determine which pot you could use as best.
pot size 5 x 5 cm (+/- 0.5 liter) = plant height up to 13 centimeters
pot size 10 x 10 cm (+/- 2 to 3 liters) = plant height up to 30 centimeters
pot size 13 x 13 cm (+/- 5 liters) = plant height up to 60 centimeters
pot size 20 x 20 cm (+/- 12 liters) = maximum plant height
Limit growing phase
The cycle of a cannabis plant consists of a growth phase and a flowering phase. A plant will remain in the growth phase (excluding Autoflowers) as long as it receives light for 16 or more hours. She will continue to grow in this phase for a week or three after the number of light hours per day has been reduced to 12 hours or less. When you switch to the flowering phase by shortening the daily light period, the weed plant will continue to grow for about three weeks. During this transitional phase of three weeks a cannabis plant will even grow explosively. Sativa's will grow more than Indica during the transition period. Adjust the light regime when a Sativa has reached about half of the desired height and for an Indica when it has reached two thirds of the desired height. Thus, despite the growth spurt, you will stay within the available height.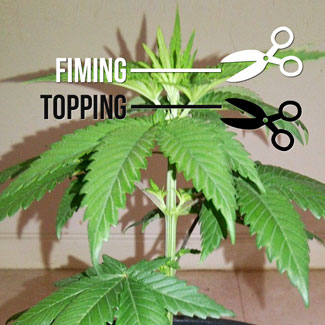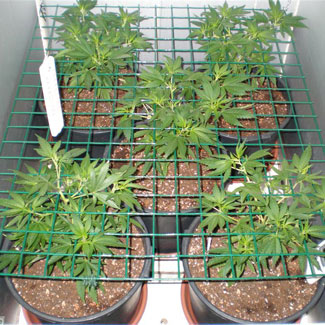 Training
Even with the right pot size and a shortened growth phase, a cannabis plant could still be too big for the growing room. But with the necessary training you could also reduce the last centimeters in height. Fimming or topping your cannabis plants is a good start during the beginning of the flowering. For this purpose, remove the top tip (tops) or two thirds (fimmen) when the plant has developed about five nodes. A node is the place on a branch or main stem where branches grow. Look at the picture to see what you should take away. Another way to make sure your plants do not get too high is scroggen. With a rack or net, you should tie the plants so that they do not get too high.
Weed seeds 23 seeds found
Weed seeds 23 seeds found