CBD rich cannabis strains
All cannabis seeds, to grow cannabis, which have a high content of CBD. Do you want to grow a cannabis strain which has a high content of CBD? Below you will find our offer of cannabis seeds which generate cannabis plants that have a high content of CBD. These cannabis seeds are very popular among home growers who are using cannabis as treatment against medical complaints. The popularity of a medicinal treatment with CBD-rich cannabis or CBD extracted from cannabis oil has to do with the active ingredients. The active ingredient where medical patients are most interested in, is the cannabinoid, or CBD in brief.
The difference between CBD and THC
If you are looking on the internet for cannabis seeds and you ask the average Dutchman what the working substance of cannabis is, they will say THC. This is the most known cannabinoid which is presented in cannabis. THC is the abbreviation for 9-tetrahydrocannabinol and is often found in higher rates than at the CBD counterpart. CBD and THC are the most prominent cannabinoids in cannabis, but they both play a different role. THC is far more psycho-active. THC takes care of a spiritual journey and lethargic effects which you will often find in commercial strains nowadays. CBD has an opposite effect, decreases the effect and increases the medicinal value of the strain.

Detailed information about CBD
As mentioned above, the CBD content of a cannabis plant is typically found in smaller percentages than the THC content of a cannabis plant. If you want to use cannabis for medicale use you should pick strains which contain CBD. When CBD acts on the cannabinoid receptors in your body, it activates and promotes the natural response of your body in the nervous system against pain, stress and anxiety, etc. CBD ensures, that for example your nervous system will reduce inflammation and will ignore pain (the pain does not disappear, but your body won't pay attention to it). Our body responds well on CBD, because we have our own natural version of CBD. Therefore the CBD in cannabis is a natural extension or stimulant to our nervous system.
Lately, most of the cannabis seeds are developed for their THC content with a corresponding psychoactive effect, because this has a positive effect on the sales. Demand from the market largely determines what is mostly grown and people want to grow cannabis with THC. However, there are plenty of growers which are specifically developing strains for the medical user. These cannabis strains are bred to contain a high content of CBD. Important to know is that all cannabis strains contain CBD, so all cannabis strains will provide a medical benefit, but some strains provide more. Another interesting point of CBD is that it regulates THC, so the THC does not have any effect. Hereby the psychoactive effect of a really strong Medical Marijuana strain will be less. The effect of cannabis strains which have a high content of THC and CBD usually is a powerful and clear high in your head. After all the psychoactive ingredients are still present, but they are reduced because of the CBD content. Therefore medical users could function normally, while they are still enjoying the physical and neurological benefits of CBD.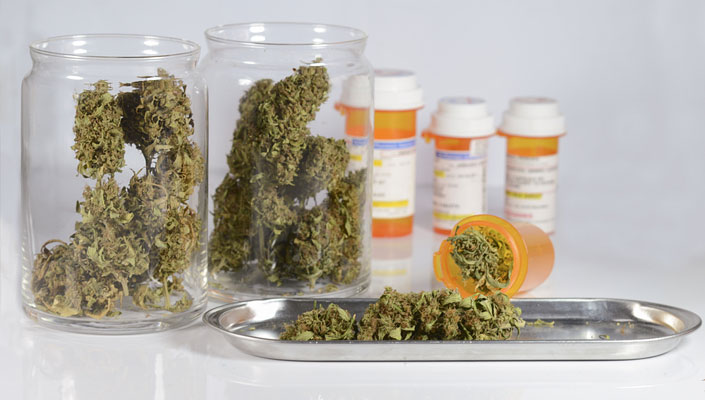 CBD often occurs in percentages ranging from 0.6% to 1%, where strains with a CBD content of 0.6% or less have weak CBD-effects and strains which have a CBD content 1% or more have very strong effects. This seems to be relatively low, but it is adequate. Although it is possible to find strains which have a higher content of CBD, but these stronger strains are rare. Some pure Medical Marijuana strains, such as those of CBD Crew en CBD Seeds, have a higher CBD content of more than 6%. The percentage indicates the amount of CBD in comparison with the other parts of cannabis. So let's say if we have a liquid form of 100 ml marijuana, 1 ml of CBD will be 1% CBD.
Weed seeds 296 seeds found
Weed seeds 296 seeds found