Verpakking World of Seeds
Het merk World of Seeds is een zeer populair en bekend merk. Deze feminised en autoflower wietzaden worden verpakt in pakjes van 3, 7 en 12 wietzaden. Deze zaden kun je bij ons ook per stuk kopen, we verpakken deze zaden dan handmatig in vochtvrije 'microfuge tubes' met duidelijke labels.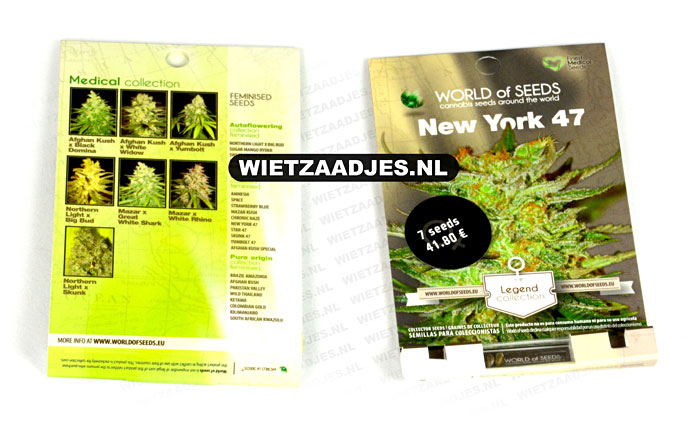 De verpakking van World of Seeds kan verschillen wanneer je kiest voor een ander aantal of andere soort dan dat op de afbeelding staat.
Aanbod World of Seeds
World of Seeds Feminised soorten:
World of Seeds biedt de volgende feminised soorten: Afghan Kush, Afghan Kush Special, Afghan Kush x Black Domina , Afghan Kush x Skunk, Afghan Kush x White Widow, Afghan Kush x Yumbolt, Amnesia, Brazil Amazonia ,Chronic Haze, Colombian Gold, Delirium, Domina Star, High Tension, Ketama, Kilimanjaro, Madness, Mazar Kush, Mazar x Great White Shark, Mazar x White Rhino, New York 47, New York Special, Northern Light x Skunk, Northern Lights x Big Bud, Obsession, Pakistan Valley, Privilege, Skunk 47, South African Kwazulu, Space, Star 47, Stoned Immaculate, Strawberry Blue, Yumbolt 47, Wild Thailand.
World of autoflowering seeds soorten:
Van de autoflowering soorten biedt dit merk de soorten: Wild Thailand Ryder, Sweet Coffee Ryder, Sugar Mango Ryder, Pakistan Ryder, Northern Lights x Big Bud Auto, Amnesia Auto, Afghan Kush Ryder.