Wietzaden van de beste breeders
Het begon allemaal met het professioneel verpakken en verkopen van wietzaden van de beste breeders, uiteraard tegen aantrekkelijke prijzen. De wietzaadjes van Seedsman zelf zijn dan ook niet zelf ontwikkelt, maar hiervoor is gebruik gemaakt van de beste genetica van bevriende breeders. Sommigen blijven liever anoniem, maar van enkele grote breeders is bekend dat ze met Seedsman samenwerken. De bekendste leveranciers van Seedsmans' wietzaden, waar we wel vanaf weten, zijn Sam the Skunkman en Sacred Seeds. Naast de massale verkoop van krachtige hybriden wietsoorten, besteden ze minstens net zo veel aandacht aan het behouden van hoge kwaliteit landrassen. Deze genetica zijn immers fundamenteel in de evolutie van cannabis.
Werkwijze Seedsman
De focus ligt vooral op de kwaliteit van de wietzaden en niet zozeer op de kwantiteit. Mocht je je dus afvragen waarom het aanbod van Seedsman beperkt is, is dit omdat ze de beste kwaliteit tegen lage prijzen willen aanbieden. Elke wietsoort van Seedsman is hierdoor gegarandeerd van een eigen, unieke smaakprofiel. Maar natuurlijk ook prachtige eigenschappen tijdens groei en bloei die elke wietsoort haar eigen genetica op een mooie wijze laat zien tijdens de kweek.
Feminised en Autoflowering wietzaden
Al snel na het ontstaan van Seedsman bereikten ze in 2007 de eerste mijlpaal, ze begonnen de verkoop van feminised wietzaden. Wederom afkomstig van goed bevriende breeders en zaadbanken, waardoor je gegarandeerd bent van de meest stabiele en beste genetica. In 2011 volgde alweer een mijlpaal en werd gestart met de verkoop van autoflowering wietzaden. Net als alle strains van Seedsman staan deze wietzaden garant voor uitmuntende kwaliteit, maar dan wel tegen een betaalbare prijs. Wat zeggen klanten van Seedsman? Uit duizenden beoordelingen blijkt wel dat de algehele opinie over Seedsman, wereldwijd, zeer positief is.
Verpakking Seedsman wietzaden
Wietzaadjes van Seedsman worden zeer professioneel verpakt, dit is immers ook de core business van dit bedrijf. De zaadjes worden per 5 en 10 verkocht, al kun je de zaadjes bij ons ook per stuk kopen. Wij verpakken de wietzaden dan handmatig in vochtvrije 'microfuge' tubes (buisjes), uiteraard voorzien van duidelijke labels zodat je weet welk zaadje in welke tube zit.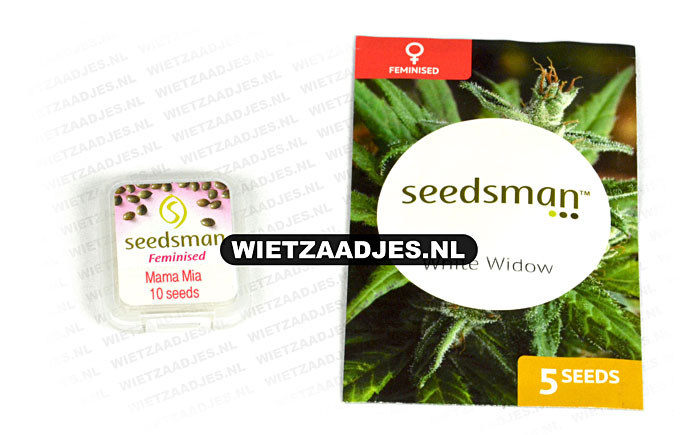 Diverse wietsoorten Seedsman
Enkele mooie wietsoorten van Seedsman lichten we graag uit voor je.
Original Skunk #1
Makkelijk te kweken wietplant met de echte Skunk genetica. Gezien de vriendschap tussen Seedsman en eerder genoemde 'Sam the Skunkman', kan het haast niet anders dan dit de pure Skunk genetica bevat. Binnen en in een kas doen ze het goed, buiten is ze iets gevoeliger voor toprot. Haar comfortabele high en massieve toppen zijn, ongeacht je ervaring, zeker een goede reden om deze genetische Godin te kweken. Godin, omdat er vele kruisingen zijn ontstaan uit de Original Skunk #1.
Northern Soul
Northern Soul van Seedsman is een prachtige mix tussen indica en sativa genetica. Dit is één van de voorbeelden, afkomstig van de Original Skunk #1. Na een kruising met Northern Lights was de Northern Soul het resultaat. Tijdens de groei zul je veelal indica eigenschappen zien, diepgroene bladeren en compacte wietplanten. Bij het roken ervaar je een prettig lichamelijk stoned gevoel. Niet te krachtig, door de inmenging van sativa genetica. Of deze wiet beter is dan haar moeder (Original Skunk #1), laten we geheel aan jouw oordeel over.