Verpakking Green House Seeds
Het merk Green House Seeds is een zeer bekend merk die feminised en autoflower wietzaden levert. Dit merk levert zijn zaden in verpakkingen van 3, 5 en 10 zaadjes. Ook kun je deze zaden bij ons ook per stuk kopen, we verpakken deze zaden dan handmatig in vochtvrije 'microfuge tubes' met duidelijke labels.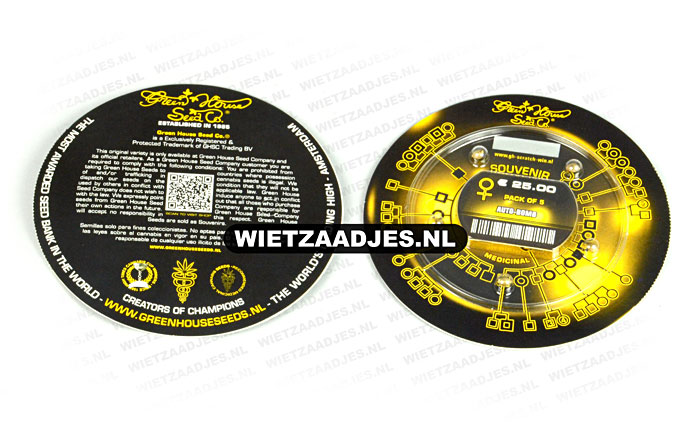 De verpakking van Green House Seeds kan verschillen wanneer je kiest voor een ander aantal of andere soort dan dat op de afbeelding staat.
Zaden aanbod Green House Seeds
Green House Seeds Feminised soorten:
Green House Seeds biedt de volgende feminised soorten: Alaskan Ice, AMS, , Arjan's haze#1, Arjan's haze#2, Arjan's haze#3, Arjan's Strawberry haze, Arjan's Ultra haze #1, Arjan's Ultra haze #2, Big bang, , Bubba kush, Cheese, Chemdog, Damn sour, Diamond girl, El Nino, Exodus cheese, Great white shark, Green house thai, Hawaiian Snow, Himalaya gold, Jack herer, K-train, Kaia kush, Kalashnikova, Kings kush, Ladyburn 1974, Lemon Skunk, Moby dick, Nevill's haze, NL5 Haze Mist, Pure kush, Super bud, Super critical, Super lemon haze, Super silver haze, The church, The Doctor, Trainwreck, White rhino, White widow.
Green House autoflowering seeds soorten:
Van de autoflowering soorten biedt dit merk de soorten: Auto Bomb, Big bang autoflower, Green o matic autoflower, Kalashnikova auto, NL Auto, Super critical autoflower, Sweet mango auto.
Green House Mixed soorten:
Van de mix soorten biedt dit merk de verpakkingen: Mix black and white, Mix indica E, Mix indica F, Mix indica G, Mix indica H, Mix indica I, Mix sativa, Mix sativa/indica A ,Mix sativa/indica B ,Mix sativa/indica C ,Mix sativa/indica D.