Connoisseur Genetics soorten
Ze produceren alleen feminised wietzaadjes. Ook hebben ze soorten die zowel geschikt zijn voor een wiet kweek binnen(indoor) en buiten(outdoor). Ze hebben zaden die een hoge opbrengst opleveren, zaden waaruit een hoge kwaliteit wiet ontstaat door het kruisen van zeer exclusieve genetica. Connoisseur levert perfecte kwaliteit met stabiele en sterke genen.
Verpakking Connoisseur Genetics zaden
Het merk Connoisseur Genetics heeft een aantal zeer populaire wietsoorten in hun assortiment. Dit bedrijf zoekt naar de beste prijswinnaars en gebruikt deze in hun kruisingen. Ze leveren hun feminised wietzaadjes in pakjes van 5 zaden, echter kun je deze zaden bij ons ook per stuk kopen, we verpakken deze zaden dan handmatig met duidelijke labels.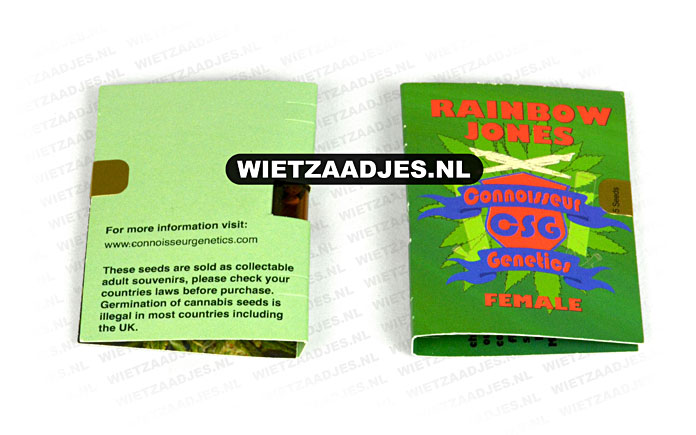 De verpakking van Connoisseur Genetics kan verschillen wanneer je kiest voor een ander aantal of andere soort dan dat op de afbeelding staat.
Cannabis zaden aanbod
Connoisseur Genetics Feminised soorten:
Connoisseur Genetics biedt de volgende feminised soorten: Cheese n Chong, Chemmy Jones, Diesel Dipped Cookies, East Coast Cookies, East Sour Diesel Haze, Girl Scout Haze Cookies, Grand Doggy Purps, Granddaddy Purple S1, Grandaddy White, Grateful Casey, Hey Dave, Lemon n Lime Jones, NYC Jones, Purple Cheddar, Purple Cheech, Rainbow Jones, Strawberries and Cream, Strawberry Sour Haze, Super Silver Sour Diesel, The White Jones, The White S1, Triangle Kush Cookies.